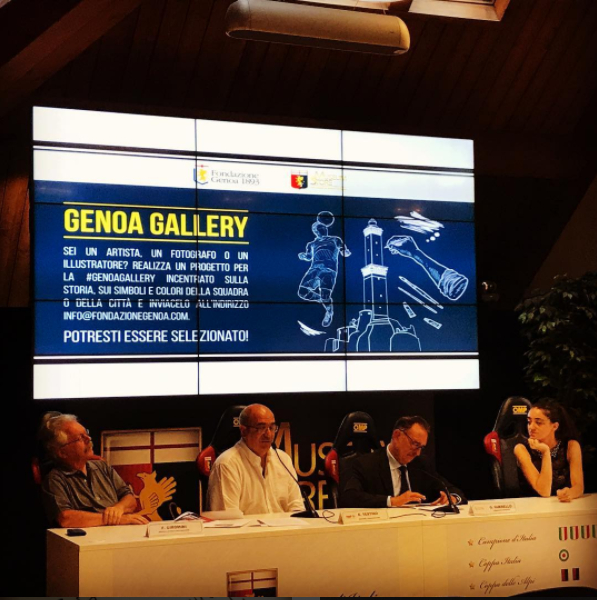 "A considerate guardian" exhibited at Genoa Gallery
A new exhibition for the griffin winner of "Disegno Genova" contest
I'm glad to announce that my illustration "A considerate guardian" is back on show! You will find it till next January in a prestigious location: the Genoa Museum at Porto Antico, right in the heart of Genova!
The exibition is held in the freshly inaugurated "Genoa Gallery", a space of the Museum dedicated to artworks on the story and symbols of Genoa township and Genoa Cricket and Fotball Club. It is promoted by Fondazione Genoa 1893 in collaboration with Genoa Cfc and SMACK!&Play and it displays the 15 illustrations selected for "Disegno Genova 3" competition. The illustrations depict the griffin, a mytological figure that stand as a emblem of both the city and the football club of Genoa.
The exhition was inaugurated today and I had the honour to attend the press conference with Giorgio Guerrello, councelor of Fondazione Genoa 1893, Enrico Testino, organiser of Smack! & Play!, and Ferruccio Giromini, President of the Jury of Disegno 3. It's been really exciting speaking of my work and answering to the journalists questions, even though being in the limelight is not really for me.

The even's press review includes: Rai 3
Il Secolo XIX
Primocanale
Liguria Notizie
Telenord
Genoa News
Pianetagenoa1983

(among them there're also a couple of video displaying little ability with interviews...).